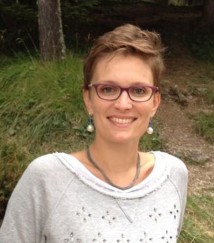 Curriculum Vitae
Cecilia Ceresa was born in Busto Arsizio (VA) on April 21, 1981. She graduated in Medical Biotechnology (110/110 cum laude) in 2005, and in 2008 she got the PhD in Neuroscience.
In 2006-2007 she joined the laboratories of Professor Godefridus J. Peters of the VU University Medical Centre, Department of Oncology, Netherlands, where she studied the cytotoxic activity of bortezomib and gemcitabine in non-small cell lung cancer cells and the neurotoxic effect of bortezomib, epothilone-B and oxaliplatin.
Since 2006 she is involved in collaborative studies on anticancer activity, drug targeting and chemotherapy-induced neurotoxicity with Research Institutes such as Dipartimento di Ingegneria Chimica e dei Materiali, Università della Calabria, Department of Biotechnology and Biosciences, Università di Milano-Bicocca, Scuola di Scienze e Tecnologie of the University of Camerino.
Since January 2010 she is actively involved in performing joint experiments at the European Synchrotron Radiation Facility (ESRF) in Grenoble, France with Dr. A. Bravin. The collaboration with ESRF deals with pilot in vitro and in vivo experiments devoted to explore innovative strategies to enhance cytotoxicity while reducing neurotoxicity of anticancer drugs.
She is involved in tutor activity of students attending the bachelor degree and the Master of Science in Medical Biotechnology.
She is author of 19 scientific papers on International peer-reviewed journals and 2 book chapters.
RESEARCH INTEREST
In vitro and in vivo study of antineoplastic agents' neurotoxicity mechanisms
In vivo and in vitro study of pharmacological neuroprotection of neurotoxic damage
Study of the effect of Photon activation therapy on normal and tumoral cells and tissues
In vitro study of the possible antineoplastic effect of silica nanoparticles
MOST SIGNIFICANT PUBLICATIONS
Find out more on SCOPUS