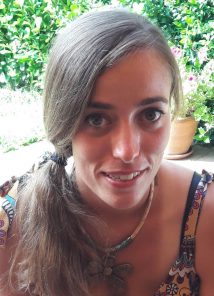 Curriculum Vitae
Born in 1988, she obtained her Bachelor's degree in Biotechnology in 2012 and her master degree in Medical Biotechnology in 2015 at the University of Milano-Bicocca. From December 2013 to October 2015 she worked in the laboratory of Neurobiology (Head: Prof. C. Ferrarese). In this period of time, she studied the therapeutic modulation of cerebral collateral flow in an in vivo model of ischemic stroke.
In february 2019 she got the PhD student in Translational and Molecular Medicine (DIMET). At the ENU she works on in vivo research projects regarding Chemotherapy-Induced Peripheral Neurotoxicity.
She is author of 9 scientific papers on International peer-reviewed journals.
RESEARCH INTERESTS
In vitro study of acute platinum compounds neurotoxicity mechanisms
Preclinical assessment of chemotherapy-induced peripheral neurotoxicity
Neuroprotection studies in chemotherapy-induced peripheral neuropathies (CIPN) models
Study of molecular mechanisms involved in antineoplastic-induced peripheral neurotoxicity
PUBLICATIONS
Calls A, Carozzi V, Navarro X, Monza L, Bruna J. Pathogenesis of platinum-induced peripheral neurotoxicity: Insights from preclinical studies. Exp Neurol. 2019 Dec 19;325:113141. doi: 10.1016/j.expneurol.2019.113141. [Epub ahead of print] Review. PubMed PMID: 31865195.
Alberti P, Canta A, Chiorazzi A, Fumagalli G, Meregalli C, Monza L, Pozzi E,Ballarini E, Rodriguez-Menendez V, Oggioni N, Sancini G, Marmiroli P, Cavaletti G. Topiramate prevents oxaliplatin-related axonal hyperexcitability and oxaliplatin induced peripheral neurotoxicity. Neuropharmacology. 2020 Mar 1;164:107905. doi: 10.1016/j.neuropharm.2019.107905. Epub 2019 Dec 4. PubMed PMID: 31811874.
Chiorazzi A, Wozniak KM, Raisb R, Wu Y, Gadiano AG, Farah MH, Liu Y, Canta A, Alberti P, Rodriguez-Menendez V, Meregalli C, Fumagalli G, Monza L, Pozzi E, Vornov JJ, Polydefkis M, Pietra C, Slusher BS, Cavaletti G. Ghrelin Agonist HM01 Attenuates Chemotherapy-Induced Neurotoxicity in Rodent Models. Eur J Pharmacol. 2018 Sep 27.
Meregalli C, Marjanovic I, Scali C, Monza L, Spinoni N, Galliani C, Brivio R, Chiorazzi A, Ballarini E, Rodriguez-Menendez V, Carozzi VA, Alberti P, Fumagalli G, Pozzi E, Canta A, Quartu M, Briani C, Marmiroli P, Cavaletti G. High-Dose Intravenous Immunoglobulins Reduce Nerve Macrophages Infiltration and the Severity of Bortezomib-Induced Peripheral Neurotoxicity in Rats. J Neuroinflammation. 2018 Aug 21;15(1):232..
Meregalli C, Fumagalli G, Alberti P, Canta A, Carozzi VA, Chiorazzi A, Monza L, Pozzi E, Sandelius Å, Blennow K, Zetterberg H, Marmiroli P, Cavaletti G. Neurofilament light chain as disease biomarker in a rodent model of chemotherapy induced peripheral neuropathy. Exp Neurol. 2018 Sep;307:129-132.
Beretta S, Versace A, Carone D, Riva M, Dell'Era V, Cuccione E, Cai R, Monza L, Pirovano S, Padovano G, Stiro F, Presotto L, Paternò G, Rossi E, Giussani C, Sganzerla EP, Ferrarese C. Cerebral collateral therapeutics in acute ischemic stroke: A randomized preclinical trial of four modulation strategies J Cereb Blood Flow Metab. 2017 Jan.
Cuccione E, Versace A, Cho TH, Carone D, Berner LP, Ong E, Rousseau D, Cai R, Monza L, Ferrarese C, Sganzerla EP, Berthezène Y, Nighoghossian N, Wiart M, Beretta S, Chauveau F. Multi-site laser Doppler flowmetry for assessing collateral flow in experimental ischemic stroke: Validation of outcome prediction with acute MRI. J Cereb Blood Flow Metab. 2016 Jan.
Find out more on SCOPUS and on her ORCID profile.