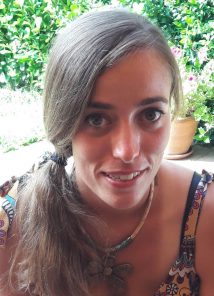 Curriculum Vitae
Born in 1988, she obtained her Bachelor's degree in Biotechnology in 2012 and her master degree in Medical Biotechnology in 2015 at the University of Milano-Bicocca. From December 2013 to October 2015 she worked in the laboratory of Neurobiology (Head: Prof. C. Ferrarese). In this period of time, she studied the therapeutic modulation of cerebral collateral flow in an in vivo model of ischemic stroke.
In february 2019 she got the PhD student in Translational and Molecular Medicine (DIMET). Since 2019, she is a Post-doctoral fellow at ENU. At the ENU she works on in vivo research projects regarding Chemotherapy-Induced Peripheral Neurotoxicity.
She is author of several scientific papers on International peer-reviewed journals.
RESEARCH INTERESTS
In vitro study of acute platinum compounds neurotoxicity mechanisms
Preclinical assessment of chemotherapy-induced peripheral neurotoxicity
Neuroprotection studies in chemotherapy-induced peripheral neuropathies (CIPN) models
Study of molecular mechanisms involved in antineoplastic-induced peripheral neurotoxicity
PUBLICATIONS
Bloomingdale P, Meregalli C, Pollard K, Canta A, Chiorazzi A, Fumagalli G, Monza L, Pozzi E, Alberti P, Ballarini E, Oggioni N, Carlson L, Liu W, Ghandili M, Ignatowski T, Lee K, Moore M, Cavaletti G, Mager D. Systems Pharmacology Modeling Identifies a Novel Treatment Strategy for Bortezomib-Induced Neuropathic Pain. Front. Pharmacol., 19 January 2022. DOI: 10.3389/fphar.2021.817236
Monza L, Fumagalli G, Chiorazzi A, Alberti P. Translating morphology from bench side to bed side via neurophysiology: 8-min protocol for peripheral neuropathy research. J Neurosci Methods. 2021 Nov 1;363:109323. doi:0.1016/j.jneumeth.2021.109323. Epub 2021 Aug 13. PMID: 34391792.
Fumagalli G*, Monza L*, Cavaletti G, Rigolio R, Meregalli C. Neuroinflammatory Process Involved in Different Preclinical Models of Chemotherapy-Induced Peripheral Neuropathy. Front Immunol. 2021 Feb 4;11:626687. doi: 10.3389/fimmu.2020.626687. PMID: 33613570; PMCID: PMC7890072. * first coauthors
Meregalli C*, Monza L*, Chiorazzi A, Scali C, Guarnieri C, Fumagalli G, Alberti P, Pozzi E, Canta A, Ballarini E, Rodriguez-Menendez V, Oggioni N, Cavaletti G, Marmiroli P. Human Intravenous Immunoglobulin Alleviates Neuropathic Symptoms in a Rat Model of Paclitaxel-Induced Peripheral Neurotoxicity. Int J Mol Sci. 2021 Jan 21;22(3):1058. doi: 10.3390/ijms22031058. PMID: 33494384; PMCID: PMC7865319. * first coauthors
Beretta S, Versace A, Martini B, Viganò M, Diamanti S, Pini C, Paternò G, Carone D, Mariani J, Monza L, Riva M, Padovano G, Rossi E, Citerio G, Castoldi G, Padelli F, Giachetti I, Aquino D, Giussani C, Sganzerla EP, Ferrarese C. Head down tilt 15° in experimental intracerebral hemorrhage: a randomized noninferiority safety trial. Eur J Neurol. 2020 Sep 28. doi: 10.1111/ene.14560. Epub ahead of print. PMID: 32986293.
Find out more on SCOPUS and on her ORCID profile.