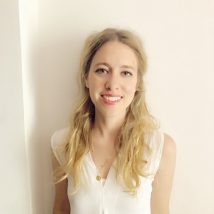 Roberta Bonomo is a PhD student of the International Program in Neuroscience between the University of Milano-Bicocca (Monza, Italy) and the University of Surrey (Guildford, UK). 
Roberta was educated at University of Catania, Italy, where she qualified as a Medical doctor (2014) and Neurologist (2019). During her Medical School, Roberta had the opportunity to participate in several international internships and programs concerning Neuroscience. She also trained in neurogenetics and movement disorders with Professor Kailash Bhatia at the Department of Clinical and Movement Neurosciences of the Institute of Neurology, UCL, Queen Square, London (2018-2019). 
Research interests
Her PhD research project involves the investigation of neurobiological markers suggestive of nerve damage in Chemotherapy-induced peripheral neuropathy, with a specific focus on metabolomics. She is also interested in motor control, and the neurophysiological study of mechanisms underlying hyper- and hypokinetic movement disorders.
Publications