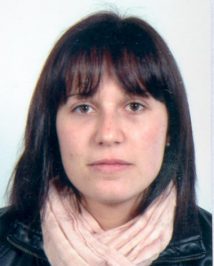 Curriculum Vitae
Sara Semperboni was born in Clusone (Bg) on May 26, 1987. She graduated in Biotecnology (Bachelor's degree) in 2011 and in Medical Biotechnology (Master degree) in 2014.
She currently works on in vitro and in vivo projects dealing with Chemotherapy-Induced Peripheral Neurotoxicity at Experimental Neurology Unit (University of Milano Bicocca), where now she attends the Ph.D. program in Neuroscience.
Since 2014 she has been performing experiments at the European Synchrotron Radiation Facility (ESRF) in Grenoble, France with Dr. A. Bravin.
She is author of 5 scientific papers on International peer-reviewed journals.
RESEARCH INTEREST
In vitro and in vivo study of antineoplastic agents' neurotoxicity mechanisms
In vivo and in vitro study of pharmacological neuroprotection of neurotoxic damage
Study of the effect of Photon activation therapy on normal and tumoral cells and tissues
In vitro study of the possible antineoplastic effect of silica nanoparticles
PUBLICATIONS
Ceresa C, Nicolini G, Semperboni S, Gandin V, Monfrini M, Avezza F, Alberti P, Bravin A, Pellei M, Santini C, Cavaletti G. Evaluation of the Profile and Mechanism of Neurotoxicity of Water-Soluble [Cu(P)4]PF6 and [Au(P)4]PF6 (P = thp or PTA) Anticancer Complexes. 

Neurotox Res

. 2018 Jan 17. doi: 10.1007/s12640-018-9864-8. [Epub ahead of print]
Wozniak KM, Vornov JJ, Wu Y, Liu Y, Carozzi VA, Rodriquez-Menendez V, Ballarini E, Alberti P, Pozzi E, Semperboni S, Cook BM, Littlefield BA, Nomoto K, Condon K, Eckley S, DesJardins C, Wilson L, Jordan MA, Feinstein SC, Cavaletti G, Polydefkis M, Slusher BS. Peripheral neuropathy induced by microtubule-targeted chemotherapies: insights into acute injury and long-term recovery. Cancer Res. 2017 Nov 30. pii: canres.1467.2017. doi: 10.1158/0008-5472.CAN-17-1467. [Epub ahead of print]
 Ceresa C, Nicolini G, Semperboni S, Requardt H, Le Duc G, Santini C, Pellei M, Bentivegna A, Dalprà L, Cavaletti G, Bravin A. Synchrotron-based photon activation therapy effect on cisplatin pre-treated human glioma stem cells. Anticancer Res. 2014 Oct;34(10):5351-5.
Chiorazzi A, Semperboni S, Marmiroli P. Current View in Platinum Drug Mechanisms of Peripheral Neurotoxicity. Toxics. 2015 Aug 7;3(3):304-321. doi: 10.3390/toxics3030304. Review.
Marmiroli P, Riva B, Pozzi E, Ballarini E, Lim D, Chiorazzi A, Meregalli C, Distasi C, Renn CL, Semperboni S, Morosi L, Ruffinatti FA, Zucchetti M, Dorsey SG, Cavaletti G, Genazzani A, Carozzi VA. Susceptibility of different mouse strains to oxaliplatin peripheral neurotoxicity: Phenotypic and genotypic insights.  PLoS One. 2017 Oct 11;12(10):e0186250. doi: 10.1371/journal.pone.0186250. eCollection 2017.
Find out more on SCOPUS