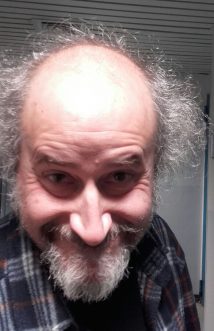 Curriculum Vitae
Birth date 3-12-1966, Milan, italy
1989-1993: fellowship granted by
Bruno Ceccarelli Center
Department of Pharmacology
Consiglio Nazionale delle Ricerche
Technical skills:
Thin (microtomy) and ultrathin sectioning (ultramicrotomy) for optical and electronic microscopy
Electronic and optical micrography
Epoxy and acrylic resin embedding
Quick freezing with electrical stimulation
Cryosubstitution
Freeze etching in high vacuum systems
Medium-free fixation methods for Electron Spectroscopic Imaging (E.S.I.)
Ultracryomicrotomy and immuno electron microscopy
Immunofluorescence for optical microscopy
1993-2000: electron microscopy technician at  DIBIT, S. Raffaele scientific institute
Technical skills:
Confocal Microscopy (Zeiss Lsm 01, Biorad mrc 600, Biorad 1024)
Digital image systems and analysis for  optical microscopy ( software: Lasersharp 2000, Image Pro Plus, Labwiev, Metamorph)
Metal sputtering and rotary shadowing
Peroxydase and immunoperoxydase
Ultrathin serial sectioning and 3d reconstruction
2001-2017: electron microscopy technician at the Department of  Neuroscienze e Tecnologie Biomediche (Now School of Medicine and Surgery)
Technical skills:
Digital image systems and analysis for  electronic microscopy  ( software: ITEM)
Digital image systems and analysis for morphometry  (software: Leica Qwin)
Automatic resin embedding (leica EmTp)
Imaging deconvolution
3d reconstruction in optical microscopy (Biorad Radiance 2100 microscope)
Negative staining
Metal sputtering for scanning microscopy
Elemental Analysis
Image j software platform – drivers & devices, macros, morphometry
LATEST PUBLICATIONS
Canta A, Chiorazzi A, Carozzi VA, Meregalli C, Oggioni N, Bossi M, Rodriguez-Menendez V, Avezza F, Crippa L, Lombardi R, de Vito G, Piazza V, Cavaletti G, Marmiroli P.Age-related changes in the function and structure of the peripheral sensory pathway in mice. 

Neurobiol Aging

. 2016 Sep;45:136-148. doi: 10.1016/j.neurobiolaging.2016.05.014. Epub 2016 May 20.
Bentivegna A, Conconi D, Panzeri E, Sala E, Bovo G, Viganò P, Brunelli S, Bossi M, Tredici G, Strada G, Dalprà L. Biological heterogeneity of putative bladder cancer stem-like cell populations from human bladder transitional cell carcinoma samples. 

Cancer Sci

. 2010 Feb;101(2):416-24. doi: 10.1111/j.1349-7006.2009.01414.x. Epub 2009 Oct 27.
Find out more on