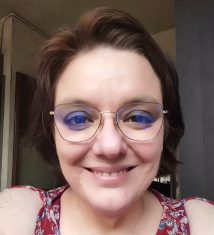 Curriculum Vitae
Daunia Laurenti received her Master's Degree in Medical Biotechnology at Università degli Studi di Roma, Tor Vergata in 2006.
From 2007 to 2008, she worked as Animal House technician in Rome.
From 2008 to 2011 she joined the Centro Europeo di Ricerca sul Cervello (CERC) – Fondazione Santa Lucia in Rome as a Master scientist in Neuroanatomy laboratory, focusing on Huntington's Disease and pharmacology therapies.
From 2011 to 2015 she performed her PhD in the Pharmacology Laboratory in School of Medicine at the Western Sydney University (former University of Western Sydney), Sydney, Australia. During her Phd she focused on highlighting novel neuroprotective mechanisms against the hydrogen peroxide cell death, related to inflammation in the brain.
From 2015 to 2020 she collaborated with Dr. Antonio Lauto at the School of Science & Health (Western Sydney University). The project focuses on nerve regeneration by using electric stimulation on the nerve lesion site.
From 2017 to 2018 she collaborated with the Neuroanatomy laboratory, in CERC, Rome.
From 2018 to 2021 she worked as a scientist supporter and technician for Auralia s.r.l. in Rome, supporting Physiology Laboratory of Università La Sapienza, in Rome; Pharmacology department of Università La Sapienza in Rome; Experimental Neurology Laboratory in Università Tor Vergata in Rome.
In 2020 she worked as administrative supporter and scientist in Neurochemistry of Lipids Laboratory in Centro Europeo di Ricerca sul Cervello (CERC) – Fondazione Santa Lucia in Rome.
In 2021 she joined the Neuroscience Institute of The National Council of Research (CNR), in Milan, Italy. Main target of the project was Autism and possible therapies using animal models.
From July 2022 to May 2023 she joined the Experimental Neurology Unit, School of Medicine and Surgery, University of Milano-Bicocca.
From May 2023 she holds the position of Animal Welfare Officer (Responsabile del Benessere Animale) in the University of Milano-Bicocca.
Relevant Publications
Valentina Razmovski-Naumovski, Benjamin Kimble, Daunia Laurenti, Srinivas Nammi, Hisayoshi Norimoto, Kelvin Chan. Polysaccharide peptide (PSP) extract from Coriolus versicolor increased Tmax of tamoxifen and maintained biochemical serum parameters, with no change in the metabolism of tamoxifen in the rat. Frontiers in Pharmacology. Accepted 2022 march 07. DOI: 10.21203/rs.3.rs-59581/v1.
Paldino E, D'Angelo V, Laurenti D, Angeloni C, Sancesario G, Fusco FR. Modulation of Inflammasome and Pyroptosis by Olaparib, a PARP-1 Inhibitor, in the R6/2 Mouse Model of Huntington's Disease. Cells. 2020 Oct 13;9(10):2286.
Laurenti D, Ooi L. Mammalian expression systems and transfection techniques. Methods in molecular biology. 2013;998:21-32.
Leuti A, Laurenti D, Giampa C, Montagna E, Dato C, Anzilotti S, et al. Phosphodiesterase 10A (PDE10A) localization in the R6/2 mouse model of Huntington's disease. Neurobiology of disease. 2013 Apr;52:104-16.
Giampa C, Middei S, Patassini S, Borreca A, Marullo F, Laurenti D, et al. Phosphodiesterase type IV inhibition prevents sequestration of CREB binding protein, protects striatal parvalbumin interneurons and rescues motor deficits in the R6/2 mouse model of Huntington's disease. The European journal of neuroscience. [Research Support, Non-U.S. Gov't]. 2009 Mar;29(5):902-10.