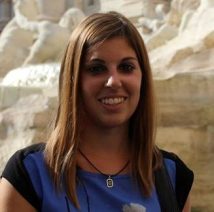 Curriculum Vitae
Born in 1991. She graduated in Biotechnology (Bachelor's degree) in 2013 and in Biology (Master degree cum laude) in 2016 at the University of Milano Bicocca.
Since 2014 she has been collaborating in in vivo research projects on Chemotherapy-Induced Peripheral Neurotoxicity at Experimental Neurology Unit (University of Milano Bicocca), where now she attends the Ph.D. program in Neuroscience.
Her main expertise is in the development and use of in vivo experimental models to study the peripheral neuropathies.
She is author of 8 scientific papers on International peer-reviewed journals.
RESEARCH INTERESTS
Preclinical assessment of chemotherapy-induced peripheral neurotoxicity
Neuroprotection studies in chemotherapy-induced peripheral neuropathies (CIPN) models
Study of molecular mechanisms involved in antineoplastic-induced peripheral neurotoxicity
PUBLICATIONS
Find out more on