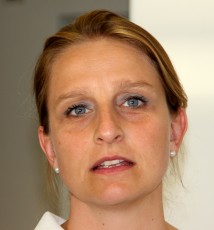 Curriculum Vitae
Gabriella Nicolini was born in Milan on May 25, 1970. She graduated in Biological Sciences (1996) and received the Professional Biologist certification (1997) and PhD in Morphological Sciences (2001) at University of Milan. From 2001 to 2007 she worked at Department of Neuroscience, University of Milano-Bicocca with a fellowship funded by the University and as a contract researcher. Since 2007 she was hired at the same department (now School of Medicine and Surgery) as a researcher (BIO17). Assistant professor of histology, embryology and microscopic anatomy in Bachelor and Master of Science program, member of the faculty of the PhD program in Neuroscience, author of 54 publications in international journals.
RESEARCH INTEREST
In vitro and in vivo study of antineoplastic agents' neurotoxicity mechanisms
In vivo and in vitro study of pharmacological neuroprotection of neurotoxic damage
Study of the effect of Photon activation therapy on normal and tumoral cells and tissues
In vitro study of the possible antineoplastic effect of silica nanoparticles
In vitro study of  possible antineoplastic effect of  new metal-based drugin vitro validation of molecular target predicted by 3D in silico screenings
MOST RELEVANT PUBBLICATIONS
Malacrida M, Di Domizio

A, Bentivegna A, Tabano SM, Cislaghi G, Messuti E, Tabano S.M., Giussani C, Zuliani V, Rivara M,

Nicolini G. 

MV1035 Overcomes Temozolomide Resistance in Patient-Derived Glioblastoma Stem Cell Lines.

Biology

 

2022

, 

11

(1), 70;

Tudda A, Donzelli E.,

Nicolini G

., Semperboni S, Bossi M., Cavaletti G., Castriconi R., Mangili P.,  Del Vecchio A, Sarno A., Mettivier G., Russo P. (2021) Breast radiotherapy with kilovoltage photons and gold nanoparticles as radiosensitizer: an in vitro study. Medical Physics: doi: 10.1002/mp.15348.

Malacrida A, Semperboni S, Di Domizio A, Palmioli A, Broggi L, Airoldi C, Meregalli C, Cavaletti G,

Nicolini G

. (2021). Tubulin binding potentially clears up Bortezomib and Carfilzomib differential neurotoxic effect. Sci Rep. 2021; 11(1):10523. doi: 10.1038/s41598-021-89856-3.

Palmioli A,

Nicolini G

, Tripodi F, Orsato A, Ceresa C, Donzelli E, Arici M, Coccetti P, Rocchetti M, La Ferla B, Airoldi C. (2021) Targeting GRP receptor: Design, synthesis and preliminary biological characterization of new non-peptide antagonists of bombesin. Bioorg Chem. 2021; 104739. doi: 10.1016/j.bioorg.2021.104739. 

Malacrida A, Rivara M, Di Domizio A, Cislaghi G, Miloso M, Zuliani V,

Nicolini G.

3D proteome-wide scale screening and activity evaluation of a new ALKBH5 inhibitor in U87 glioblastoma cell line.

Bioorg Med Chem. 2020; 28(4):115300. doi: 10.1016/j.bmc.2020.115300. 

Malacrida A, Cavalloro V, Martino E, Cassetti A,

Nicolini G

, Rigolio R, Cavaletti G, Mannucci B, Vasile F, Giacomo MD, Collina S, Miloso M. Anti-Multiple Myeloma Potential of Secondary Metabolites from Hibiscus sabdariffa. Molecules. 2019; 24(13). doi: 10.3390/molecules24132500.

Ceresa C,

Nicolini G

, Semperboni S, Gandin V, Monfrini M, Avezza F, Alberti P, Bravin A, Pellei M, Santini C, Cavaletti G Evaluation of the Profile and Mechanism of Neurotoxicity of Water-Soluble [Cu(P)4]PF6 and [Au(P)4]PF6 (P = thp or PTA) Anticancer Complexes..Neurotox Res. 2018; 34(1):93-108. 

Ceresa C,

Nicolini G

, Semperboni S, Requardt H, le Duc G, Santini C, Pellei M, Bentivegna A, Dalprà L, Cavaletti G, Bravin A. Synchrotron-based photon activation therapy effect on cisplatin pre-treated human glioma stem cells.  Anticancer Res. 2014; 34 (10): 5351-5355

Ceresa C,

Nicolini G

, Rigolio R, Bossi M, Pasqua L, Cavaletti G. Functionalized mesoporous silica nanoparticles: a possible strategy to target cancer cells reducing peripheral nervous system uptake. Curr Med Chem. 2013; 20(20):2589-600.
Find out more on SCOPUS