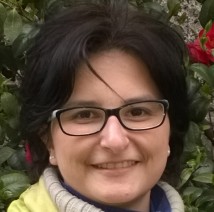 Curriculum Vitae
After Medical Biotechnologies degree and Neuroscience PhD defence, Roberta started working on neuroimmunology-related disorders, becoming the PI of a Fondazione Italiana Sclerosi Multipla (FISM) grant  on neutrophil contribution in Experimental Autoimmune Encephalomyelitis and being the group contact for Milano-Bicocca project on innate immunity molecular biomarkers in Multiple Sclerosis research grant supported by Cariplo Foundation.
She was in charge of the flow cytometry department facility and teaching "Research methodologies".
Still contributing to preclinical and clinical research on MS/EAE,  she is currently in charge for managing "The Research House" (bldg U28) resources and scouting  collaborations.
INTEREST IN SCIENCE
Innate immunity in Multiple Sclerosis
Experimental Autoimmune Encephalomyelitis: pathogenesis, disease biomarkers and biophysical approaches in studying disease course
Strategies in limiting cancer cell development and proliferation (mainly nanoparticles and natural compounds)
PUBLICATIONS
Giatti  S, Rigolio R, Silvia Diviccaro S, Falvo E, Caruso D, Garcia-Segura L, Cavaletti G, Melcangi RC. Sex dimorphism in an animal model of multiple sclerosis: focus on pregnenolone synthesis.

Journal of Steroid Biochemistry and Molecular Biology. 2020 ACCEPTED FOR PUBLICATION

Formicola B, D'Aloia A, Dal Magro Ra, Stucchi S, Rigolio R, Ceriani M, Re F. Differential Exchange of Multifunctional Liposomes Between Glioblastoma Cells and Healthy Astrocytes via Tunneling Nanotubes. Frontiers in Bioengineering and Biotechnology 2019. 7:403 DOI=10.3389/fbioe.2019.00403
Potenzieri A, Riva B, Rigolio R, Chiorazzi A, Pozzi E, Ballarini E, Cavaletti G, Genazzani AA. Oxaliplatin-induced neuropathy occurs through impairment ofhaemoglobin proton buffering and is reversed by carbonic anhydrase inhibitors. Pain. 2019 Oct 17. doi: 10.1097/j.pain.0000000000001722. [Epub ahead of print]
Malacrida A, Cavalloro V, Martino E, Cassetti A, Nicolini G, Rigolio R, Cavaletti G, Mannucci B, Vasile F, Giacomo MD, Collina S, Miloso M. Anti-Multiple Myeloma Potential of Secondary Metabolites from Hibiscus sabdariffa. Molecules. 2019 Jul 9; 24(13). pii: E2500. doi: 10.3390/molecules24132500. 
Dal Magro R, Albertini B, Beretta S, Rigolio R, Donzelli E, Chiorazzi A, Ricci M, Blasi P, Sancini G. Artificial apolipoprotein corona enables nanoparticle brain targeting. Nanomedicine. 2017 Nov 21;14(2):429-438. doi: 10.1016/j.nano.2017.11.008.
Parlanti P, Cappello V, Brun F, Tromba G, Rigolio R, Tonazzini I, Cecchini M, Piazza V, Gemmi M. Size and specimen-dependent strategy for x-ray micro-ct and tem correlative analysis of nervous system samples. Sci Rep. 2017 Jun 6;7(1):2858. doi: 10.1038/s41598-017-02998-1.
Dal Magro R, Ornaghi F, Cambianica I, Beretta S, Re F, Musicanti C, Rigolio R, Donzelli E, Canta A, Ballarini E, Cavaletti G, Gasco P, Sancini G. ApoE-modified solid lipid nanoparticles: A feasible strategy to cross the blood-brain barrier. J Control Release. 2017 Mar 10;249:103-110. doi: 10.1016/j.jconrel.2017.01.039.
Rigolio R., Ballarini E., Grimoldi M., Gardinetti M., Di Sante G. Multiple Sclerosis Drug Therapy: from the Classical Pharmaceutical down to Cellular and Molecular Approach. 2016 BENTHAM e-Books series – Frontiers in Clinical Drug Research – CNS and Neurological Disorders, Vol. 4, 3-113, 2016. ISBN(PRINT): 978-1-68108-296-7, eISBN: 978-1-68108-295-0
Tambalo S*, Peruzzotti-Jametti L*, Rigolio R*, Fiorini S, Bontempi P, Mallucci G, Balzarotti B, Marmiroli P, Sbarbati A, Cavaletti G, Pluchino S, Marzola P. Functional Magnetic Resonance Imaging of Rats with Experimental Autoimmune Encephalomyelitis Reveals Brain Cortex Remodeling.J Neurosci. 2015 Jul 8;35(27):10088-100. doi: 10.1523/JNEUROSCI.0540-15.2015. *co-authorship
Giatti S, Rigolio R, Romano S, Mitro N, Viviani B, Cavaletti G, Caruso D, Garcia-Segura LM, Melcangi RC. Dihydrotestosterone as a Protective Agent in Chronic Experimental Autoimmune Encephalomyelitis. 2015;101(4):296-308. doi: 10.1159/000381064.
Find out more on SCOPUS
COLLABORATIONS
University of Cambridge (Dr. S. Pluchino and Dr. L. Peruzzotti-Jametti)
Università degli Studi di Milano (Prof. R. Melcangi and Dr S. Giatti)
Università degli Studi di Verona (Dr P. Marzola and Dr. G. Malerba)
Università Vita e Salute San Raffaele (Dr. M. Battaglia and Dr. G. Fousteri)
Istituto Italiano di Tecnologia (NEST)- Center for Nanotechnology Innovation (Dr V. Cappello, Dr V. Piazza)