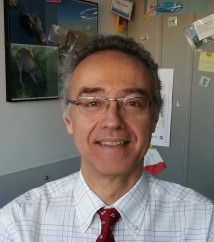 Curriculum Vitae
MD, Board in Neurology.
Senior consultant neurologist and head of the Neuroimmunology Center, S. Gerardo Hospital, Monza (Italy).
Head of the Experimental Neurology Unit at the School of Medicine and Surgery and former Director of the PhD program in Neuroscience, University of Milano-Bicocca, Monza.
Member of the Board of Directors of the Peripheral Nerve Society as Chair of the Toxic Neuropathy Consortium.
Vice Rector for Research at the University of Milano-Bicocca.
Coordinator of the steering committee of the international CI-PeriNoms group on the investigation of chemotherapy-induced peripheral neurotoxicity.
Author of more than 300 peer-reviewed papers (Scoups h-index = 57).
RESEARCH INTERESTS
Preclinical and clinical assessment of chemotherapy-induced peripheral neurotoxicity
Preclinical and clinical assessment of diabetic neuropathy
Experimental autoimmune encephalomyelitis and multiple sclerosis
Use of mesenchimal stem cells in models of neurological diseases
Biological effects of synchrotron radiation
RESEARCH PROJECT
The research project is focused on the study of the pathogenesis of chemotherapy-induced peripheral neurotoxicity  (CIPN) and on its characterization in proper animal models.  It will be developed  with the Experimental Neurology Unit (ENU) and it will include mechanistic studies in vitro based on primary (neuronal, glial) and organotypic (dorsal root ganglia) cultures, as well as the implementation of in vivo mice/rat CIPN models. Behavioral, neurophysiological and pathological methods currently available at the ENU will be used in the in vivo studies.
Given the expertise available at the ENU on all the neurotoxic anticancer drugs available in clinical practice, the selection of the test drug for the studies will be performed at the moment of the project beginning, in order to design the most up-to-date experiments able to address relevant clinical issues. The test drug will be selected among platinum-based compounds, antitubulins or proteasome inhibitors, drugs used in the treatment of more than 50% of cancer patients undergoing chemotherapy.
Upon specific agreement and according to the experimental design, part of the project could be performed at the Center for Studies on Pain of the University of Maryland, Baltimore, MD
MOST RELEVANT PUBLICATIONS
Potenzieri A, Riva B, Rigolio R, Chiorazzi A, Pozzi E, Ballarini E, Cavaletti G, Genazzani AA.

Oxaliplatin-induced neuropathy occurs through impairment of haemoglobin proton buffering and is reversed by carbonic anhydrase inhibitors.

Pain. 2019 Oct 17. doi: 10.1097/j.pain.0000000000001722. 

Leblanc AF, Sprowl JA, Alberti P, Chiorazzi A, Arnold WD, Gibson AA, Hong KW, Pioso MS, Chen M, Huang KM, Chodisetty V, Costa O, Florea T, de Bruijn P, Mathijssen RH, Reinbolt RE, Lustberg MB, Sucheston-Campbell LE, Cavaletti G, Sparreboom A, Hu S. OATP1B2 deficiency protects against paclitaxel-induced neurotoxicity.  

J Clin Invest

. 2018 Jan 16. pii: 96160. doi: 10.1172/JCI96160.
Wozniak KM, Vornov JJ, Wu Y, Liu Y, Carozzi VA, Rodriquez-Menendez V, Ballarini E, Alberti P, Pozzi E, Semperboni S, Cook BM, Littlefield BA, Nomoto K, Condon K, Eckley S, DesJardins C, Wilson L, Jordan MA, Feinstein SC, Cavaletti G, Polydefkis M, Slusher BS. Peripheral neuropathy induced by microtubule-targeted chemotherapies: insights into acute injury and long-term recovery. Cancer Res. 2017 Nov 30. pii: canres.1467.2017. doi: 10.1158/0008-5472.CAN-17-1467.
Gewandter JS, Freeman R, Kitt RA, Cavaletti G, Gauthier LR, McDermott MP, Mohile NA, Mohlie SG, Smith AG, Tejani MA, Turk DC, Dworkin RH. Chemotherapy-induced peripheral neuropathy clinical trials: Review and recommendations. Neurology. 2017 Aug 22;89(8):859-869. doi: 10.1212/WNL.0000000000004272.
Sprowl JA, Ong SS, Gibson AA, Hu S, Du G, Lin W, Li L, Bharill S, Ness RA, Stecula A, Offer SM, Diasio RB, Nies AT, Schwab M, Cavaletti G, Schlatter E, Ciarimboli G, Schellens JH, Isacoff EY, Sali A, Chen T, Baker SD, Sparreboom A, Pabla N. A phosphotyrosine switch regulates organic cation transporters.  Nat Commun. 2016 Mar 16;7:10880. doi: 10.1038/ncomms10880.
Find out more on SCOPUS
FOREIGN COLLABORATIONS
Johns Hopkins University, Baltimore, MD (Prof. D. Cornblath, Prof. A. Hoke, Dr. B. Slusher)
University of Maryland, Baltimore, MD (Prof. S. Dorsey, Dr. C. Renn)
Amsterdam University, Amsterdam, The Netherlands (Prof. T. Postma)
Maastricht University, Maastricth, The Netherland (Dr. I. Merkies)
Bellvitge University Hospital, Barcelona, Spain (Dr. Jordi Bruna)

Columbia University, New York (Dr. F. Bartolini, Dr. F. Lotti)

Patras University Hospital, Patras (Dr. A. Argyriou)