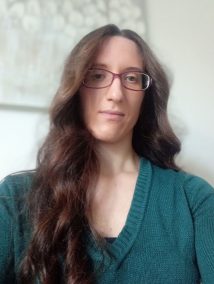 Curriculum Vitae
Paola Alberti was born in Como in 1985. 
EDUCATION AND TRAINING
July 2010: Degree: MD – 110/110 cum laude – University of Milano-Bicocca (Monza, Italy)
June 2016 – Degree: Board in Neurology – 70/70 cum laude – University of Milano-Bicocca (Monza, Italy)
February 2019 – Degree: PhD in Neuroscience – University of Milano-Bicocca (Monza, Italy)
RESEARCH INTEREST AND PROFESSIONAL EXPERIENCE
Her main expertise is related to peripheral nervous system diseases, especially Chemotherapy Induced Peripheral Neurotoxicity (CIPN). She is an active member of the Toxic Neuropathy Consortium (TNC, https://sites.google.com/campus.unimib.it/tncwebsite/tnc-home-page), part of the Peripheral Nervous System (PNS) society.
During the Residency in Neurology, she was a visiting fellow at Johns Hopkins University (Prof. D.R. Cornblath, MD) to refine her knowledge of neurophysiological techniques. Since 2015 she has been pursuing an interest for preclinical research and joined the Experimental Neurology Unit (ENU, University of Milano-Bicocca) team, where she completed the PhD program in Neuroscience (2019). Her PhD project was focused on Oxaliplatin Induced Peripheral Neurotoxicity in preclinical models: she introduced advanced neurophysiological techniques, nerve excitability testing, to ENU after having learnt them from Prof H. Bostock, (UCL, London). She was a visiting fellow at University of Baltimore (Prof. S.G. Dorsey and Prof C. Renn) where learned DRG recordings in preclinical models.
Since August 2016 she is a consultant Neurologist at San Gerardo Hospital (ASST Monza, Italy): she is the treating physician for outpatients affected by CIPN ("Ambulatorio di Fragilità Neurologica"). She is the PI in this Center for the INTERNATIONAL CHEMOTHERAPY-INDUCED NEUROTOXICITY (CIPN) ASSESSMENT AND VALIDATION STUDY (ICAVS, see: International CIPN Assessment and Validation Study – Full Text View – ClinicalTrials.gov) which involves 30 Centers around the globe (US, Canada, South America, Africa, India, Asia, Australia). In the same Center, she is also PI of the study CIPN COST, aiming at ascertaining socio-economic burden related to CIPN (awarded a 55,000 euros grant, by UNIMIB), and of the study Neuper, aiming at ascertain efficacy of physical treatment to reverse sensory ataxia due to polyneuropathy. 
She is responsible for human anatomy teaching courses (at UNIMIB since 2016 and at Lunex University since 2020).
SKILLS AND EXPERTISE
Standard and advanced neurophysiology at a clinical and preclinical level

Morphological and morphometrical analysis of peripheral nerves and DRG

Clinical trial design and data analysis

Clinimetrics
COLLABORATIONS
Johns Hopkins University (Prof. DR Cornblath, MD; Baltimore, US)

University of Maryland (Prof. S.G. Dorsey, PhD, and Prof. C. Renn, PhD; Baltimore, US)

Politecnico di Milano (Prof. U. Spagnolini, PhD; Milan, Italy)

University of Padua (Prof. C. Briani, MD; Padua, Italy)

Saint Andrews State General Hospital of Patras (Andreas Argyriou, MD; Patras, Greece)

University of Michigan (Ellen Smith, PhD)

Hospital Universitari de Bellvitge-ICO l'Hospitalet (J. Bruna, MD, PhD; Barcelona, Spain)

Maastricht University Medical Center (ISJ Merkies, MD, PhD, and CG Faber, MD, PhD; Maastricht, the Netherlands)

Kathryn W. Davis Center for Regenerative Biology and Medicine (Prof. Sandra Rieger, PhD; Bar Harbor, US))

Georgia Institute of Technology (Nick Housley, PhD, Atlanta, Georgia, US).
POSITIONS AND HONORS
Member of the Editorial Board of the International Journal of Molecular Science (since 2020) 

Co-chair of the CIPN working group for the Neurological Complications Study Group Meeting of MASCC (since 2020)

Active member of the PNS Communications & Website Committee Meeting (since 2020)

Teaching activities of Histology and Human Anatomy (since 2016) at University Milano-Bicocca (courses: "Ottica ed Optometria", "School of Medicine and Surgery

[course held in English language]

").

Consultant Neurologist/Neurophysiologist since 2016 (ASST Monza, Italy)
AWARDS
Awarded Bicocca starting grant (December 2020) as PI for the conduction of a 12 months research project focused on socio-economical consequences of CIPN: personal grant of 55,000 euros.

Awarded

Premio Giovani Talenti 2020

(Accedemia dei Lincei/University of Milano Bicocca): personal grant of 2000 euros.

Awarded

AIPN prize 2018

for the best oral presentation at the ASNP meeting 2018 (Rome, Italy) for the contribution: "Oxaliplatin Induced Peripheral Neurotoxicity: a rat model that reproduces acute and chronic phenomena"; personal grant of 500 euros.

Awarded

second place

at

Falling Wall Labs 2017

among all Italian participants with the project "Breaking the wall of Chemotherapy Induced Peripheral Neurotox" (

https://www.ilmonferrato.it/articolo/Jcn_67YIVUeaUmNfCALLLw/e-di-chiara-l-idea-migliore-dei-falling-walls-del-sobrero

).

Travel grants

as Young Presenting Author (oral communications) for these meetings: ASNP meeting 2013 (Verona, Italy), PNS meeting 2013 (Saint Malò, France), ASNP meeting 2014 (Sorrento, Italy), EFNS 2014 (Istanbul, Turkey), PNS meeting 2015 (Quebec City, Canada), SIN 2016 (Venezia, Italy), SIN 2017 (Napoli, Italy), ASNP 2018 (Rome, Italy), ASNP 2019 (Padua, Italy).
INVITED SPEAKER AT NATIONAL AND INTERNATIONAL MEETINGS
Alberti, P (2012). Chemotherapy-induced Peripheral Neuropathy. 2012 Meeting Mediterranean Area Neurological Societies Meeting. Cyprus

Alberti, P (2012). Reti europee e nazionali per la CIPN. Meeting at Camera dei Deputati, "RICERCA, INNOVAZIONE E COMPETITIVITÀ: QUALI VANTAGGI PER IL PAESE E PER I PAZIENTI? IL FARMACO: UN SETTORE TRAINANTE PER LA RICERCA E LO SVILUPPO? DA INDUSTRIA 2015 A HORIZON 2020". Rome.

Alberti, P. (2013). Epidemiologia e clinica della CIPN. 36° Congresso Nazionale AISD. Verona

Alberti, P. (2016). Neuropatia nei pazienti affetti da M. di Fabry. Advanced Master School Fabry. Monza

Alberti, P. (2016).  OXALIPLATIN INDUCED PERIPHERAL NEUROTOXICITY: WHAT WE KNOW AND WHAT WE NEED.  "VI European Conference on cured and chronic cancer patients " 23-24 September Syracuse

Alberti P- (2017) "TESTI E SITI". Primo incontro per gli specializzandi in Neurologia. Roma, 26 Marzo 2017.

Alberti, P. (2017). Dolore neuropatico postchemio e radioterapia. Padova, XII convegno Trivento dei centri di terapia del dolore e cure palliative

Alberti, P. (2018). Novità in materia di neuropatie periferiche. Meeting "La richiesta di competenza neurologica nel prossimo futuro – Seconda edizione" Rome, 2018.

Alberti, P. (2020).  Il dolore nel paziente oncologico. Meeting "La richiesta di competenza neurologica nel prossimo futuro" Rome (converted into virtual meeting due to COVID-19 outbreak), June 2020.

Alberti, P. (2021). Toxic, systemic disease and drug-related polyneuroathies. IV school on neuromuscolar diseases. Lviv, Ucraina (data to be defined according to COVID-19 emergency).
SELECTED PUBLICATIONS
She authored 62 publications on peer-review international journals. Her current H-index is 24 with more than 1740 citations since 2010 (Scopus, March 2021). Ten representative publications are reported here:
To see the complete bibliography, go to:
ORCID PROFILE: https://orcid.org/0000-0001-6106-6183 
SCOPUS PROFILE: https://www.scopus.com/authid/detail.uri?authorId=7103068082 
RESARCH GATE PROFILE: https://www.researchgate.net/profile/Paola_Alberti
PUBMED BIBLIOGRAPHY: https://www.ncbi.nlm.nih.gov/myncbi/1z3K2q7fEG617Y/bibliography/public/